Roll over image to zoom in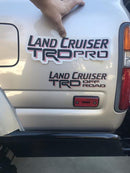 Description
This large sticker with transparent surround will find a home on the side of your Cruiser.  Just over 9" wide by 3" tall this decal is easy to see and unmistakable.
Toyota didn't make a TRD off road Landcruiser - and if they did it probably wouldn't have the font from the old Cruisers - but we can have fun can't we?

High quality vinyl.
Buy a pair for $20 and throw them on your cruiser's rear quarter panel.
Picture is of a low resolution mockup - actual sticker is 300DPI
Payment & Security
Your payment information is processed securely. We do not store credit card details nor have access to your credit card information.